I left for the Dominican on Saturday March 17, 2001. I headed there to assist in surgery and to see how the hip stem and instruments I have worked on for the past two years were working. I arrived on time in Puerto Rico, my flight was uneventful. I stepped outside to the passenger pick-up area and was welcomed with a blast of 85-degree air. I had left Michigan where it was a balmy 28 degrees. My hands were full with luggage so I wore my winter coat I definitely stuck out from the crowd. Shortly after, Dr. Mehne arrived in a white Dodge Caravan. Dr. Mehne founded the Orthopedic Ministries of the Caribbean. He is working with Medical Ministries International, MMI for short. The hip implants are his design. We worked closely together to design the implants to meet his needs and to be as inexpensive to produce as possible. We have done a good job to obtain an even balance of performance and cost effectiveness.
We headed to Dr. Mehneís house. I had a chance to change clothes and freshen up before heading to dinner. We were invited to a local surgeons house for Dinner. His name was Vidal. I met so many people there, I cannot remember all the names. Dinner was excellent and dessert was fantastic. Everyone was very kind and hospitable towards me. I had a chance to meet some of the people that I speak with on the phone when I contact Dr. Mehnes office. It is good to put a face with a name.
The following morning I woke up at about 5:00am. I was having difficulty breathing and I was having pain in my chest with each breath. When the doctor woke up, I told him how I was feeling. We headed down to his clinic to pick up others that were going to the Dominican with and to get all the supplies. While we were there, Dr. Mehne had Chris, his O.R. tech take and X-ray of my chest. It appeared that I had some bronchitis. They gave me some antibiotics to take for the trip. All of the supplies were loaded into a panel van and we headed off to the airport in San Juan. Check-in took some time, but was uneventful.
We piled on the plane to Santo Domingo. Once we arrived, we hunted down all of the supplies, eleven large trunks, and headed towards customs. There we were greeted with some resistance. We did not have the proper paperwork. In addition, there were dozens of customs agents with nothing to do but harass folks like us. At one time, there were 11 customs agents surrounding us. There were only five in our group. After 45 minutes or so, Dr. Mehne was able to speak with the head honcho via a cell phone call and we were cleared to leave with all our supplies.
We loaded all the supplies into a van and all of us jumped into a taxi. It was a Toyoda minivan surrounded with brush guards. I was not sure if that was a good thing or a bad thing. I was a little nervous getting into a car with so much armor. Needless to say, I was buckled up the whole way. We headed down the highway, which was adjacent to the coastline. The median was scattered with make shift crosses that looked like head stones. I thought at first they actually used the median for a cemetery. It turns out that these are merely memorials for people that were killed in car accidents at those locations. There were so many. I was not very comfortable being a passenger.

As we drove down the coastline and headed into small towns, I could not help but notice all the buildings. It reminded me of my father-in-laws basement. He had taken every bit of left over paint he used in the 60ís and 70ís and painted his basement. Orange, purple, green, etc. Each building was painted a different absurd color. As we got further from the airport, the houses and buildings slowly declined in appearance and quality. Then we turned into the community the hospital was built in. It was a very surreal environment. I felt as if I was in some strange Hollywood Production. The closeness of the buildings, tiny shops, barred windows and doors, litter everywhere. Uncontrolled traffic, mopeds and small motorcycles darting in an out of traffic. It appeared that there were no laws. Everyone for himself. Honking your horn only seemed to mean that you were there and you had no intentions of stopping for anyone. People were out in the streets, hundreds, and thousands probably. One man was washing his hair from the water in the storm drain. At least I think it was water.
The taxi finally came upon the mission hospital. The gates were opened and we entered the "compound". 8-10 foot walls surrounded the hospital grounds. Armed guards with shotguns patrolled the grounds. I think it was merely a show to make people think twice about stealing stuff from the hospital. I could not help but think that the guards were just waiting for someone to try something. I think the locals were more worried about their day to day lives. I never felt threatened by anyone.

I then had the chance to check out the accommodations. The house we stayed in was not unlike a small cottage in upper Michigan. There was some furniture from the 70ís to sit in, bunk beds, a small fridge and three bathrooms. I think it slept about 16 people. We then walked over to the new hospital to take a peek. I snapped some pictures and was somewhat surprised at the facilities. I had envisioned the worst. However, because of people like Dr. Mehne and MMI, many improvements have been made for the volunteers and for the patients.
That night, we were served an excellent chicken dinner. I never expected to be fed that well. The ladies at the mission were excellent cooks. I asked for the recipe, but never did get a copy of it.

Later that evening others arrived. John Watt, a chemistry major who was studying for his MCAT test to get into med school. Jordan Graybill another student who was also looking towards med school and Cameron Dietrich a third student. They arrived with Dr. Terry Dietrich and Orthopedic Surgeon from the state of Washington. His wife Jeannie accompanied him. I never asked her what her profession was, but I suspect it is in the medical field. Everyone was very friendly. Terry and Jeannie Dietrich also make several trips a year to help at the mission. Also was Tito an anesthesiologist and Ray another anesthesiologist. Everyone volunteers his or her time to be there to help. They are very good people and I admire them for the work that they do. After meeting everyone, it was time to retire for the first night and prepare for the first morning.
I woke up the following morning. I was still short of breath and a little sore when breathing. I went and had some breakfast and walked over to the clinic with Dr. Deitrich and the three students. Dr. Dietrich was seeing patients and determining what could be done to help them. One of the first patients was a dentist, considered wealthy by Dominican standards. She was told that she could not be helped at the hospital. The mission hospital is meant for less fortunate people. Each patient is required to pay for services. The doctors try to make a determination as to how much each patient can afford. No one is turned away if they cannot pay. It is kind of a gut feeling for the doctors to decide how much money will be paid, if any.
Dr. Dietrich saw two young boys that morning, both with cerebral palsy. One of them reminded me of my son, he was about the same age. I could not help but think how fortunate we are to have the best care available. There were so many people that needed help. It was a little depressing to see how many people lined up for medical services. I will never complain about a 20-minute wait in the doctorís office again. Some people waited two days to see a doctor. After about four or five patients, Dr. Mehne knocked on the door and asked if I would like to accompany him while he met with his patients. We headed over to his room and started seeing one bad hip after another. Some from accidents, some from botched surgeries, some with genetic conditions. We are very fortunate to have the best trauma care in the world.

We then headed over for the first surgery. This was my first time in surgery. I had to make sure that I did not contaminate the sterile field around all the instruments. I stood behind Dr. Mehne while the surgery commenced. I did not pass out, that was my biggest fear. I figured if I did pass out, better that it happen out of the country and not back in Michigan. If I passed out in the Dominican, no one back home would know. If the guys in the shop found out that I passed out, they would never let me hear the end of it. However, it was a moot point anyhow.
The surgery is very impersonal, the entire patient is covered except for the small area on the hip that will be opened. There was a lot of blood and it was very graphic, but I was never bothered by it. However, getting used to the electric knife is difficult. Cutting through the flesh gives off a sickening odor. You get used to it over time. Cutting is confusing, I was never sure what I was looking at. Dr. Mehne took great care in locating the sciatic nerve. It was the first priority in every surgery. Most anything that could go wrong in a surgery could be fixed. If the nerve was damaged, it could be devastating to the patient and it cannot be repaired. The surgery itself went flawless.
It was time for lunch. The workers there prepared some great sandwiches and fruit. I think I gained 15 pounds that week. The bronchitis was catching up with me by now. I had to go lay down and take a nap. I missed the second surgery.
I made it to the third surgery. It was a 48 year old male. The case was very difficult, the surgery lasted about two and a half hours. I got a much closer view this time. Then during the surgery, the lights went out. It was pitch black. Several seconds later, the generator kicked on and we were back in business.

Power failures were common. Many people actually steal electricity from the power lines. They shimmy up the poles and tap in illegally and run power to the small tin sheds they call home. Needless to say, all the hackers make the power supply very unpredictable.
Now the lights are on. Surgery proceeded, I was splattered with blood during the procedure. As I looked over I saw Cameron, one of the students, shielding his eyes. He later hunted down a face shield. I was thinking about scrubbing in for the next surgery by this time. I felt comfortable with the whole environment now.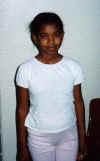 Later in the day a 16 year old girl came in. She had rheumatoid arthritis. She looked as if she was 12 years old. I am told the medication she takes stunts growth and gives a youthful appearance. At any rate, she is much too young to be going through something like this. She is scheduled to have surgery in July.
Towards the end of the day, a small birthday cake was brought in for one of the workers. I had no idea who the person was or how old he was. Everyone sang happy birthday in Spanish, except me. I faked it. After all, I only know three words in Spanish and two of them are bad.
The day was winding down. We had another great meal. Some kind of sliced beef in a pepper sauce. Then we had a coconut ice cream. I also had some time to talk with everyone to get to no them a little better.
The bronchitis was still bothering me. I woke up early, but since the shower was occupied, I stayed in bed until it was vacant. At least that was the plan. I fell back asleep. Dr. Mehne did not bother to wake me up, he figured I could use the rest. I finally made it to the hospital at 9:00am. I missed the first surgery. I then visited with patients with Dr. Mehne. We saw one hack job after another. If you have an abandoned car and a pocketknife, you can qualify as a trauma surgeon in Santo Domingo.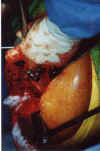 I went to the second surgery. It was a very difficult case. It was a healed fractured femur. I scrubbed for the third surgery for the first time. We implanted the first piece of the latest design. It went good. Our new Calcar planer worked great. I had blood splattered all over me again. I felt proud to see the first implant put in after two years of work. After the surgery, Dr. Mehne and I went off the side and I got a lesson in antiversion and abduction. I finally have a real good understanding of the two.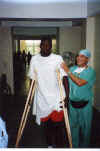 I scrubbed in for the fifth case. The lights went out again. This was a large 23-year-old baseball player. He had to be six foot four inches tall or taller. He had a moped accident. During the surgery, he was not getting enough muscle relaxant. The muscles around the hip were twitching, making it difficult to work. Ray came in and made some adjustments and it seemed to settle down some. The patient never felt any pain. This time I stayed around at the end and was able to staple the patient closed. I was a little nervous at first. I was left with a doctor that did not speak English, he showed me what to do, and I copied. I do not think I did too bad. It was no different than using a hand stapler at home. That was a "cool" experience. To put it in teenager lingo.

After that surgery, I walked across the hall to watch a bunnionectomey surgery. That was interesting. I took many photos that day. We had a couple of femurs split during surgery, nothing major. During the last surgery I scrubbed in on, the suction pump failed. Chris the OR tech made an ingenious modification and used the exhaust from another pump motor to provide the suction.
On Wednesday I sat in on a couple surgeries and took a lot of photoís and video. Nothing was out of the normal routine. I saw all of the patients from the day before. All of them being released after one night in the hospital. Everyone had smiles including the patients. I also got to see some follow-up patients that had hips replaced as far back as three years ago.

One was a young girl about 16 years old. She lost her proximal femur to a tumor. She was carried into the hospital originally. Now she is walking around with a new hip. She had just a slight limp. She was a very happy customer. It made me feel good to see that we are helping young patients. Another young lady came in that had bi-lateral hips replaced three years ago. She was able to get mobile and has enrolled in med school. Without the hips, she would have been stranded and unable to attend.
That afternoon, Chris and I headed towards the nice part of town to purchase a bench grinder. One was needed to sharpen instruments that get dull. The ride there was interesting. We drove from the poorest to the wealthiest neighborhoods. I captured the trip on video. Words cannot describe the difference a 45-minute drive can make. We pulled up to a huge department store. I could not believe my eyes. The store had everything you could imagine. From clothes to hammers to fishing gear. It was nicer than most malls in America. Sadly though, only a small percentage of people in that country can afford to shop there.
That evening we made a walk through the town surrounding the missionary. As soon as we stepped outside the gates, I heard "Americanoís, Americanoís" shouted from the small children. I was not sure if it was a term of endearment or just their way of saying they recognize us as a stranger. As we walked past the tiny tin shacks painted in the multiple colors, some just the color of rust, I peered inside to see a multitude of products available. Water, jeans, candy, chips. All for sale from what amounts to a shack the size of a backyard shed. Iron bars graced the windows and doors of most of the structures. The trash in the streets was trampled and covered with dirt. Mopeds whipped by with little regard for safety. I was always leery of the cars and trucks. The narrow streets afforded little room for escape from an out of control vehicle. We turned the corner and went down a side street. What we walked though was what amounted to a neighborhood. Small shacks, some with pirated electricity, one even had a television. It seemed odd that a luxury like that would be chosen over food or a nicer home. Chickens roamed freely as did the stray dogs. Small children roamed the streets, barefooted and shirtless. Many of them had homemade kites from twigs and paper. Future Dominican Republic aeronautical engineers I thought to myself. They seemed to take great joy in their little inventions. It was refreshing to see that something that simple could bring joy. Considering the appetite in the States for computers, Nintendo, playstation, etc.

Two of the little boys posed for a photo of them flying their kites. I tried to keep it discrete and have the shot be as natural as possible, but they all became enamored when the camera came out of the bag.
We headed down another alley, heading down hill. There was a long row of very steep steps that lead to a drainage ditch. The people at the top of the hill were wealthier than those at the bottom. I use the term wealthy very liberally.

As we proceed down the steps, I heard some older boys, probably teenagers, shouting, "americanoís" it was followed by a few more Spanish words and then some chuckles. I am sure it was not a term of endearment this time. As we walked lower into the valley, the stench became worse. The trash was deeper. It all rolls down hill. Ironically, the folks with the waterfront property here are the poorest. I am not sure that the water they live by can even be classified as water.

On the trip back up the hill, a small group of about seven or eight kids posed for a photo for me. They were more than happy to. I got the impression they had done this before. Itís funny, making rabbit ears over your buddies head while his picture is taken must be a universal joke. We then headed back around to the mission. Walked into the gates and hopped onto a bus.
The bus took us into town where everyone who came to help had dinner. It was a neat place. A restaurant that was built in a cave. Going out is kind of a tradition for the missionaries, they actually did it a day early for me. I had to leave to be at my sonís graduation from boot camp. The driver got lost on the way there, it made the trip a little exciting. We all had a chance to unwind and have a good time.
That evening I said goodbye to everyone. It was coming to an end. I packed up my stuff and got ready for a 4:30 wake-up call from the housekeeper. The driver took me down to the airport where I waited in line for my seat assignment. It was down hill from there. I made it to Atlanta with no problems. I hope to go back again when our ceramic on ceramic cups are done. There are several young patients that have postponed their surgeries to wait for the new cups. I hope that they will last a lifetime.