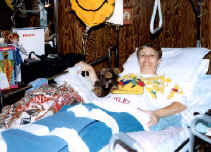 I have had my left hip joint replaced two times. The first time was on December 1, 1981 and the second was October 7, 1996.

At present, I am in my ninth week of recovery from the second surgery. It seems I am doing well enough at least to sit at my computer and create web pages, surf the Internet and send E-Mail to my family and friends. Actually, the computer is what has gotten me out of my bed.

The reason for my first total hip replacement surgery was due to a disease called AVN (avascular necrosis). This disease happens when blood cannot get to the bone and the bone dies. My cause was the build up of cortisone in the left hip joint, blocking the blood supply to the bone.

As a very young child I had terrible asthma and was treated with high doses of cortisone. As a young adult in my 20's I was diagnosed with RA (rheumatoid arthritis) which was also treated with high doses of cortisone. Another problem I had in my early 20's was "housemother's eczema" on both hands, which was treated for several years with lots of cortisone.
Cortisone, I have since learned, is manmade and never leaves your body. So it deposits itself somewhere inside your body. Eventually causing some sort of damage. Unfortunately, mine took my left hip joint. This is pain that is indescribable, unrelenting and never ending. I would have gladly let Doctors amputate my entire leg just to get rid of that pain!
I was 32 years old and a single mother of two boys at the time of my first hip surgery. Dr. Guy Vise performed my surgery at St. Dominic's Hospital in Jackson, Mississippi. After spending 7 days flat on my back I was transferred to Mississippi Methodist Rehabilitation Center in Jackson, Mississippi, where I spent the next 2 weeks. Both of these hospitals were fine and treated me wonderful.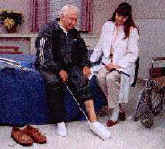 The two weeks I spent in rehab were tough, but I had to learn how to walk all over again, just like a baby! Not only did the physical therapist teach me how to walk, the occupational therapist taught me how to dress, and how to do things around the house. They presented me with all sorts of new GADGETS that would help me in my daily living.
I think the neatest GADGET they gave me was the SOCK CONE. To look at it, you would probably never guess what it is used for. But it is the greatest thing to help you get your socks, or even panty hose on. When you have had hip surgery, it is impossible to reach you feet because you cannot bend more than 80-90 degrees.

Another gadget for my feet is the 3' long metal shoe horn. Really helpful with the shoes.

To help in the bathroom, I used a RAISED TOILET SEAT. That way I didn't have to bend my hip. Since I am 5'10" tall, this seat is the greatest. I would leave it on all the time, but other family members and visitors just can't get used to it! The second surgery I was given a BEDSIDE COMMODE to use so I wouldn't have to walk so far to use the toilet. The great thing about the bedside commode is that is will also fit over the toilet and provide "arms" to hold onto. Another item in my bathroom is the GRAB BAR. This I use all the time to help pull myself up from the toilet and also to hold onto when I get into the shower. It is a metal bar that is mounted to the wall.
In the shower are 3 items I use to help me be independent. The first is the SHOWER STOOL. Since sitting in the tub is impossible, I must only use the shower. Standing in the shower after hip replacement is dangerous so I sit on a special stool that was made to get wet. It's height is adjustable, and being tall, I have it as high as it will go! The second item I use is a LONG HANDLED SPONGE or BRUSH to reach all of the places I can't bend to reach, like my feet! The last bath item is the HAND HELD SHOWER HEAD, mine is a shower massage. This allows you to control where the water is going, not in your face all the time. It is also wonderful to massage the sore muscles in your leg after your hip surgery. Nothing seems to feel better than WET HEAT for sore muscles or cold, arthritic bones.
I hope they never take back my rented hospital bed!!!!! I find it to be one of the most useful and helpful things I have by far. The TRAPEZE is a MUST for hip patients, even if you just put it on your regular old bed!

The REACHER gadget is a priceless piece of equipment that I have used during my second recovery. Oh what I would have given to have it the first time around! I have been able to pick up just about anything off of the floor without bending over. From something as small as a wire ornament hook (it's the Christmas season) to something as big and heavy as my pillow. In the afternoon, when I get to walk outside, I can even pick up our newspaper with the REACHER. The REACHER is very handy to have when I am getting dressed. I use it to help put on pants and even my socks. I found that it doesn't work very will with stockings, just puts a hole in them. Since I am prone to dropping a lot of things, the REACHER gadget has been one of my treasures.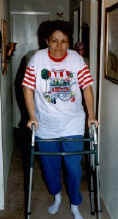 After the first surgery in 1981 I learned to walk with the use of CRUTCHES. Then after 6 months I was graduated to a walking CANE. The CRUTCHES were inconvenient for several reasons. Number one is that using them made your armpits very sore. No matter how hard you try not to rest your armpits on the top of the crutches, you still end up being sore. The CANE was somewhat better. I went a lot of places with the help of my CANE. Of course I was a lot younger, but I even went floating down the Bogue Chitto River on an inner tube with my friends. My cane was strapped to the inner tube so I would have it with me when we exited the river. Oh yes, I was much younger then. Now I don't even have the desire to float any river! Walking through the shopping mall is my goal this time! But this time I get to use an entirely new gadget that I'm not even sure was available 15 years ago. This time I am using a WALKER, that folds up when you don't need it. I find the WALKER to give much more stable support when walking. Stability is something I didn't get with the crutches. At 3 months I have been graduated to the QUAD-CANE.
When I go shopping or any place where I will have to do more than just a little walking, I use my WHEELCHAIR. That way I can really shop in comfort. This past summer, I toured Washington, DC in a wheelchair. I had the best seat of anyone. And my wonderful nephews and nieces pushed me all day long and never complained. (After all, I AM their favorite aunt Linda!)
Today marks my 10th week since my second hip surgery. (10:12 PM on 12/16/96) I am finally getting antsy being "grounded".
There are a lot of differences between my first THR and my second THR. The second is referred to by the Doctors as a REVISION. I have learned that when they remove the first prosthesis a lot of bone is taken with it, because the bone cells are attached to the glue and have grown to the metal. So therefore the bone becomes thinner with each REVISION, and takes longer to heal. Another problem is that my femur bone fractured at the top when the old joint was removed. The Doctor placed a metal band around the top of my femur bone to hold it together, and that is another reason for this being a longer recovery. When I had X-RAYS made at 8 weeks, the fracture had not yet healed completely.
I am not allowed to drive or become active yet. (Active as in: Girl Scout Troop Leader, preschool Choir Director, School Volunteer work.) My next Doctor visit will be Jan. 14, 1997 and I am hoping at that time to be healed well enough to resume my activities. I know that my assistants are ready for me to take over again!